About Mike Rowland & Son Wheelwrights & Coachbuilders
---
We have 3 working qualified wheelwrights at our shop. Mike Rowland started his business in 1964 after serving an apprenticeship. He is a Yeoman with the Worshipful Company of Wheelwrights, and was also made a Master Wheelwright in 2016 and has over half a century of experience in the trade.
Greg Rowland is Mike's son, and is the current Royal Warrant Grantee for the business. He has been in the trade since 1991, serving an informal apprenticeship with Mike after leaving the armed forces. He is a liveryman with the Worshipful Company of Wheelwrights and was made a Master Wheelwright in 2014. We are currently the only father and son master wheelwrights in the world.
George Richards is a Journeyman Wheelwright after finishing his 3 year apprenticeship with us. He has travelled to America to further his skills and has also represented apprentices nationally at the houses of commons.
With over 80 years experience in the trade between us, working from our purpose built workshops we are well prepared to restore or make any kind of wooden wheel. We also have made or restored countless horsedrawn vehicles and we can offer a complete restoration or repair service for any vehicle.  We are specialist military wheel and cannon restorers and have restored many wooden gun carriages to their former glory.
We produce on average 200 wheels per year.
No project is too big or too small, we are happy to take a look at your repair or restoration and we will gladly advise the best course of action.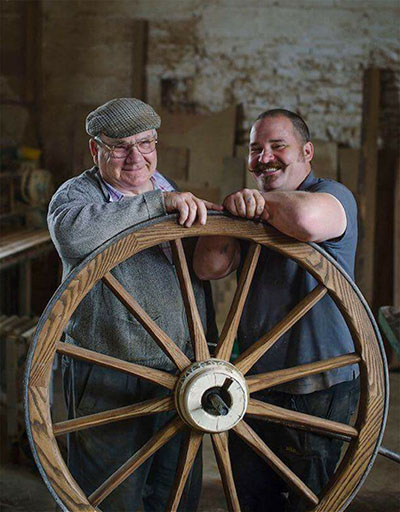 working qualified wheelwrights
wheels per year on average